Recently, NormonDoll brings you a new companion experience with our 165cm C-cup real-life silicone sex doll, Lora. More than just a sex doll, Lora is a work of art that offers comfort and active sexual passion.
Lora dresses tightly in clothes, with a shiny nightclub ruffle dress, with a sleeveless backless and bag-hip design, perfectly showcasing her alluring charm blonde hair. Her height of 165cm, curvy body, delicate arms, and fair hands are irresistible. Her skin feels incredibly soft and jiggly in the right places, thanks to our meticulous craftsmanship.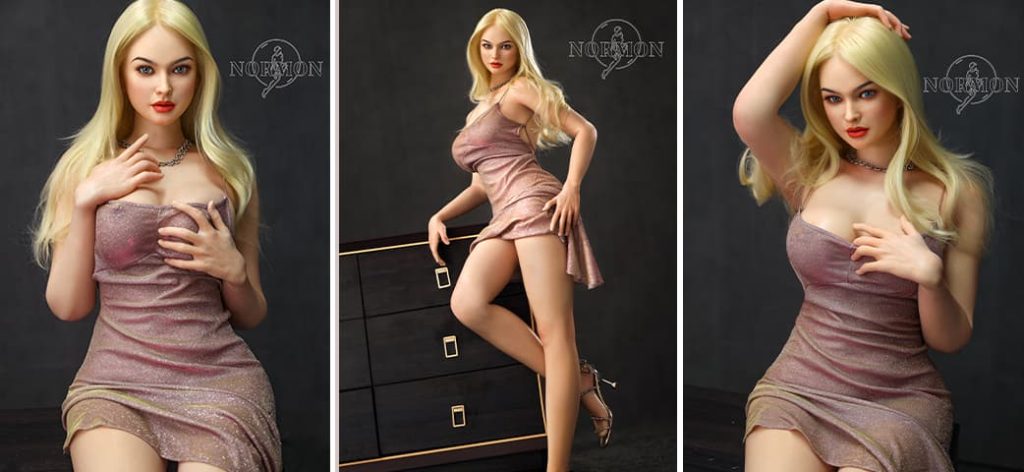 Lora can be posed in various positions, such as touching her chest with both hands; her left hand touching the top of her head while her flexible fingers on the right hand poke into the cleavage. With her unique poses, she exudes an enticing allure, even when she leans sideways on a table or sits in different positions.
Her most provocative pose that maximizes the allure of her body beauty is when she stretches her arms back, crossing her hands behind her, highlighting her medium-sized C cup and revealing a glimpse of her cleavage, subtly showing the mature temptation of a nightclub girl. The beauty you desire is revealed in an instant.
Beyond this, Lora's exposed attire displays her slender body, with a tempting sensitive butt and realistic skin texture. You can touch the two points of blush on her chest, feel the slightly protruding tips, soft and wobbling. Her reddish labia and 18cm deep anus have excellent texture structures.
Lora is not just a silicone doll, but your companion, available at a very affordable price. Don't just take our word for it, click here to view her photos and reviews.
We guarantee, you'll fall in love with Lora at first sight!
About NormonDoll Maker Profile.
NormonDoll is a brand famous produce realistic Silicone/TPE sex dolls. We focus on providing a various highest quality sex doll products. Such as yourdoll, WMdoll, silicon wives, and realsexdoll, etc. Our products undergo rigorous testing and quality control to ensure each doll can meet the needs of our customers. Our goal is to win customer satisfaction and trust with our quality products and excellent customer service.